2 Styles Of Patio Door Shutters For Your Phoenix Home
A glass patio door could be one of the most fashionable and interesting windows in your home, if you take care of it. A large part of that is deciding on how to cover the patio door to keep your privacy and adjust the lighting in your home.
Far and away the most fashionable and effective window treatments for patio doors are plantation shutters. And no matter if your patio door is a sliding door or french door, there's a style of plantation shutter to match your setup.
Shutters for Patio French Doors
Plantation shutters are great for french doors that open up to your patio because they're so multi-faceted. For every type of french patio door you might have, we can make a set of plantation shutters to fit them.
Is one door stationary or do both french doors open? Are the door handles located near the interior or the exterior of the frame? Do you want a buffer so the doors don't swing open too far and hit your wall? Custom shutters are the answer for any situation.
Don't forget their other huge benefits. Shutters give you an entire spectrum of light control, unlike drapes or blinds that only give you: open or closed. Shutters will also outlive any other window covering, and will last just as long as your patio doors do. Shutters are also affixed directly to your patio doors, so they won't swing wildly when you open the door. And with our premier faux wood Polywood® plantation shutters, you can get unmatched energy efficiency, which is particularly important with how much your patio doors can impact the temperature in your home.
Shutters for Sliding Patio Doors
Like Phoenix french doors, sliding glass patio doors can have a lot of variation, and it could get super hard to find a window treatment that works with how your doors slide. Luckily, interior shutters are custom-made to fit the exact mechanism of your sliding patio doors. Sliding door shutters have two different configurations: bypass or bifold.
Bypass Sliding Patio Door Shutters
A bypass sliding door shutter has panels that slide over one another, similar to the sliding door itself.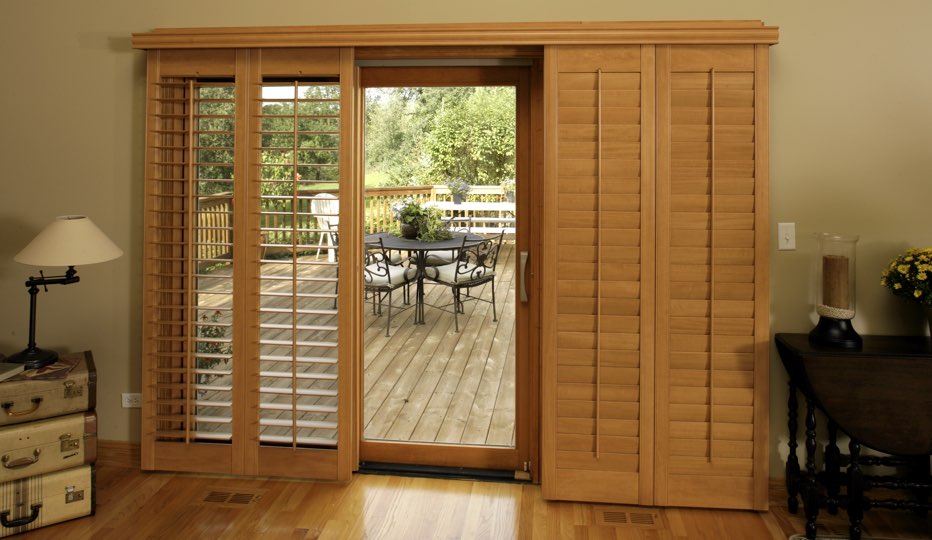 The best part of bypass patio shutters is that you don't have to sacrifice light control when you want privacy like you would with other window treatments. You can adjust the shutter louvers to a certain angle, allowing light to come in without letting the outside world get an open view of the inside of your home.
Bypass shutters typically come in fewer shutter panels than bifold shutters, resulting in a sleeker and more modern style for your patio door.
Bifold Sliding Patio Door Shutters
As you can gather from the name, bifold sliding door shutters fold in on themselves and fold away from your patio door. While not as common as bypass sliding door shutters, bifold shutters have more shutter panels, giving you more discriminating light control since you have access to more individual louvers to adjust.
Patio Door Shutter FAQs
How do I figure out if I should get bypass or bifold sliding patio door shutters?
It mainly hinges on the the space around your sliding door. Your Sunburst pro can help you determine which is best for your house.
Do I have enough room on my sliding door to put in shutters?
In most cases, yes, there's more than enough room. The reason why is that we can build a number of frame and mount options that can fit various types of sliding patio doors.
My french doors open in different directions – will that work with shutters?
As with sliding door shutters, french door shutters are made to your door's exact needs. Sunburst Shutters Phoenix is able to create a frame and mounting that won't interfere with how your patio doors operate.
Can shutters fold away from my glass patio door to give me a full view outside?
They certainly can!
Will my door handle be in the way of shutters?
No, our expert team can build shutters with custom made cut-outs that give you access to your door handle.
Will I have to cover my transom if I put shutters on my patio door?
Only if you want to cover the transom. One of the best things about shutters is how customizable they are.
Are shutters durable enough to survive pets scratching at the door?
There's no window treatment that can eliminate scuffs from pets. But for the best overall performance and durability, your best bet is Polywood plantation shutters.
Will shutters on my patio door help protect my furniture and carpet from fading?
Yes! With the total light control of plantation shutters comes the ultimate in sun protection. Your furniture, carpet, photos on the wall and more will be guarded from harsh light.
When putting in patio door shutters, is anything screwed into the floor?
No way – no matter what style of patio door shutters you choose, they adhere to either the wall around the door or the door frame itself, depending on the style you go with.
Will plantation shutters sway in the breeze when I leave the door open?
No worries here. Patio door shutters by Sunburst heavy enough, sturdy enough, and constructed solidly enough that they won't ever sway in the breeze, even when your door is wide open.
Make Your Patio Doors Beautiful Inside And Out
Are you ready to up the style and usability of your patio doors? If so, Sunburst Shutters Phoenix can help. Get in touch with Sunburst by calling 480-485-7743 today or by filling out our online contact form below. We'll get in touch soon set up a free consultation.