French Door Shutters In Phoenix
Plantation shutters aren't only great for windows – they're also one of the best choices for french doors. If you have one or two doors that open out to your patio and you want to cover the glass panes for more privacy or style, plantation shutters might be your solution. Merge stunning home fashion with usability when you choose Phoenix's favorite plantation shutters for your french patio doors.
Why Choose Shutters for French Doors?
You have a lot of options for covering french patio doors in Phoenix. A lot of Phoenix homeowners install blinds, shades, or curtains, but those can have some serious drawbacks. Both styles of blinds (standard or vertical) swing and bang against the door anytime they're open, while drapes snag and can have the door shut on them.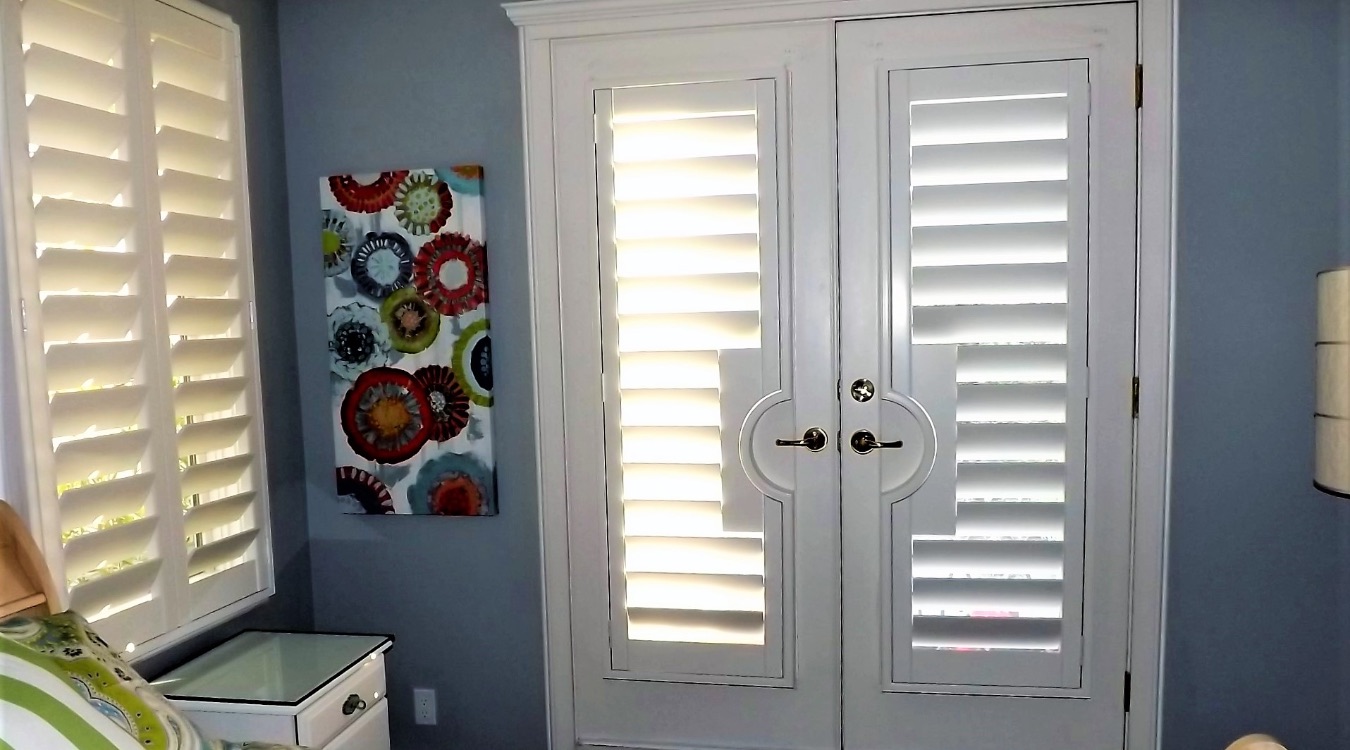 Plantation shutters on the other hand don't have to worry about that. Rather than cluttering up your patio door, shutters are more like part of the door itself, attached to the frame. It's more than that, though. Shutters on french doors offer benefits that a lot of people don't even realize until they see for themselves.
French Door Shutters Let You Take Control of Natural Light
Shutters let you control natural light better than any other option. Let in any amount of light you want, at any angle you want. Going from fully open to near blackout is just a tilt away, without the hassle of yanking cords or wands.
French Door Shutters Maintain Your Privacy
Want to keep prying eyes out of your patio door? Then shutters are for you. You can almost always see through a certain angle with blinds, and curtains let outsiders see silhouettes from inside. Shutters are the choice for maintaining your privacy.
Matching Design & Colors With French Door Shutters
Is your french door the focus of your space, or do you like to draw attention away from it? Either way, french door shutters can help you accomplish your goal. Match the color of your shutters to your baseboard trim in order to create a seamless flow, or choose a bright white shutter for a break in the middle of your space.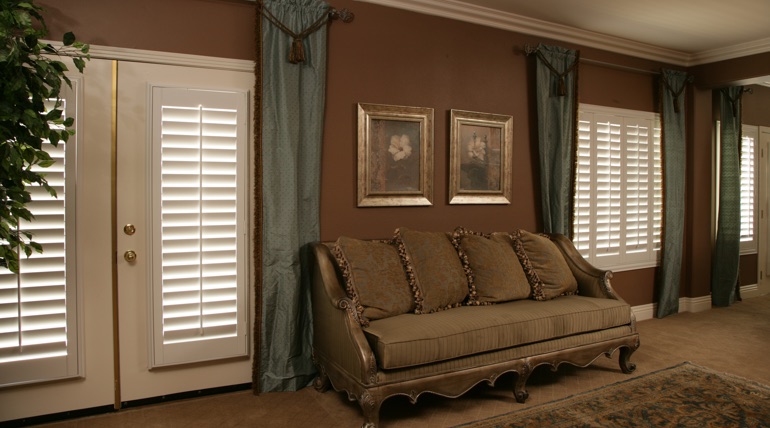 Pick from Polywood® faux wood shutters, Ovation® natural wood shutters, and other styles with Sunburst Shutters Phoenix.
French Door Shutters With Cut-Outs to Fit Your Door Handle
With blinds or drapes, you'll need to move them around to access the door handle. But that's not the case with shutters!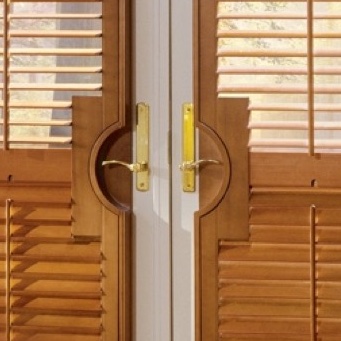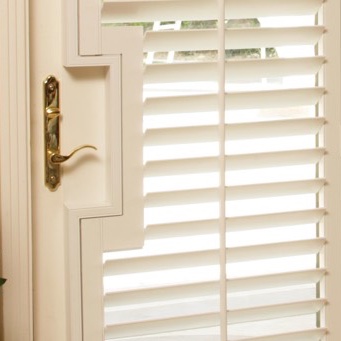 To offer you the best in practical and stylish shutters, we can custom build either square door handle cut-outs or rounded door handle cut-outs to give you access to the door handle.
Custom-Made to Your French Doors
Our shutters are built to the exact specifications of your french door. Shades, drapes, and blinds will require a lot of space above the door and to the side to hang railings. But no matter how much space you have, plantation shutters can be installed. We use a proprietary 3D blueprint software to design your shutters, then build them by hand to guarantee a seamless fit for your home and your lifestyle.
Want to Know More About French Door Shutters?
If you have any questions about french door shutters, get the answers from one of our experts. Call us at 480-485-7743 or fill out the form below to get in touch – our team is here to help!