Phoenix Plantation Shutters
Sunburst Shutters Phoenix gives you every benefit you could ever possibly want from plantation shutters. Our interior shutters give your home unmatched beauty, privacy, light management, and insulating ability. Plus more! Check out our shutter builder to customize your shutters and get an estimate online.
Custom Shutters In Phoenix For Your Home
Plantation shutters in Phoenix are a great window treatment for your home because they're exquisitely designed - both outside and in! Their thick louvers give your window a clean, in vogue style. And we manufacture our plantation shutters to provide you with energy savings and durability so your beautiful investment gives you huge savings and increases your home's value.
Plantation shutters are incredibly adaptable, too. By easily adjusting the louvers, plantation shutters let in the view and sunlight you need. The louvers are the slats that you can shift to adjust the room's lighting. They can be moved using a mounted tilt rod.
Whatever your individual needs might be, from special window shapes and matching colors to frame design, we have the best window shutters in Phoenix to complement any design.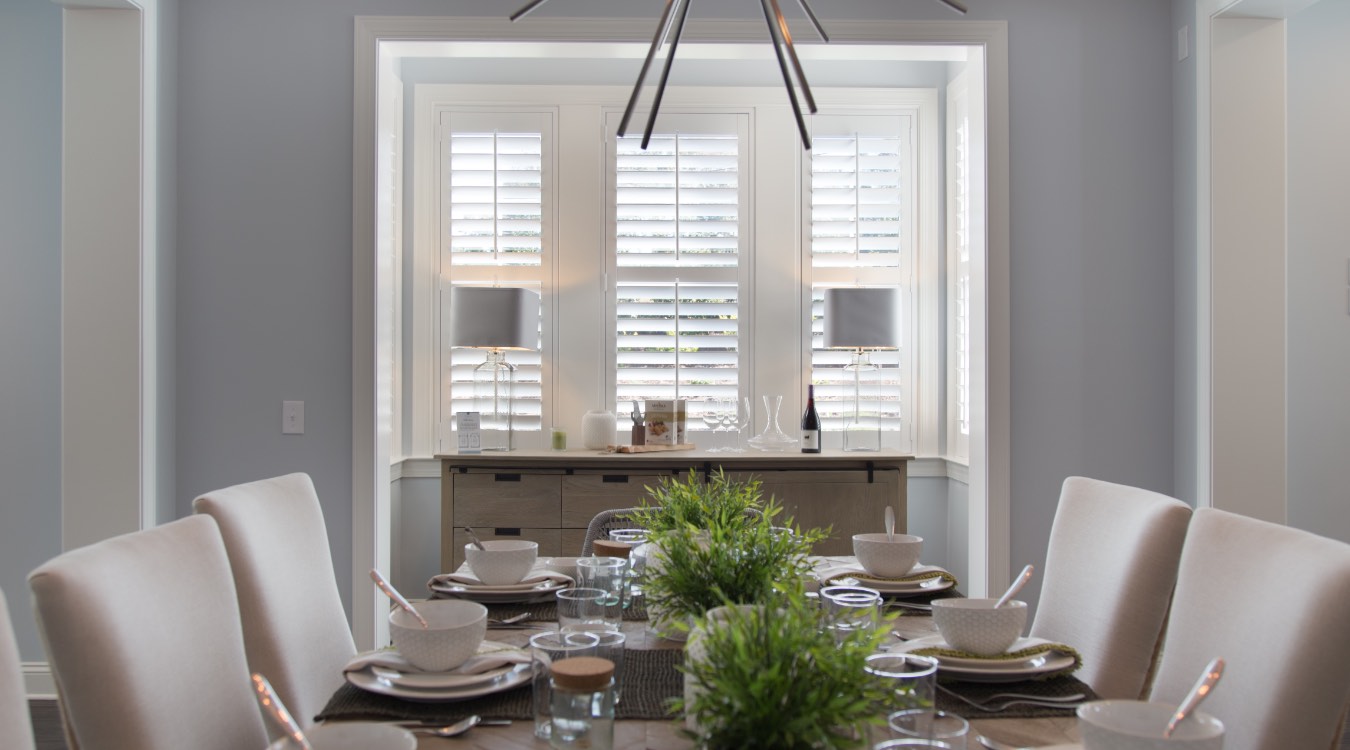 Common Plantation Shutter Questions
Why are they called plantation shutters?

Plantation shutters got that name because of their typical usage in historic mansions and plantations, especially in the American south, where they were chosen for their classy aesthetics and their potential to block heat from coming inside.

What style of shutter do you recommend for my bathroom or family room?

Every room will have some specific needs. That's why we've assembled the

Total Room Window Treatment Guide

to help you choose the best window treatment for each room in Phoenix homes.

Where are plantation shutters made?

Polywood plantation shutters are 100% made and assembled in the U.S.A.
How Plantation Shutters Can Help Phoenix Houses
The different louver sizes of plantation shutters allow you the most unobstructed view of your Phoenix neighborhood while adding beauty to your home. Plantation shutters give you hands down the most light, temperature, and privacy, privacy, light, and temperature control of any window treatment.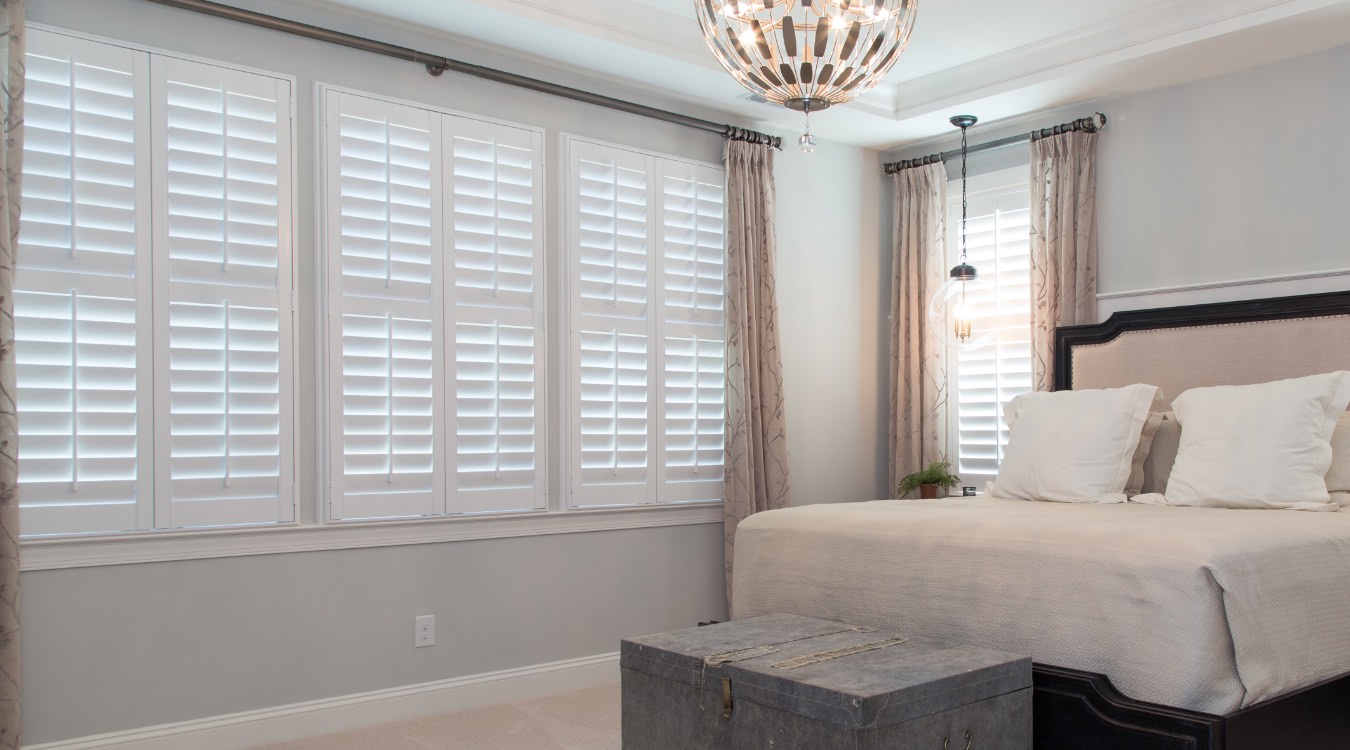 Varying louver sizes may also mean minimal louvers across your window. These large louvers give plantation shutters their clean finish. A modern look and simple control of brightness and temperature make plantation shutters the favored choice of interior shutters in Phoenix.
As a result of the way they're mounted on your window, plantation shutters become a permanent fixture. When your house is valued for resale, plantation shutters raise its estimated market price. You get to enjoy your shutters while you live there now – and take advantage of your investment later, when you sell your home. It's a win-win for everyone.
We design plantation shutters that enhance your window and your home perfectly. That's why we bring you these exceptional brands of custom plantation shutters.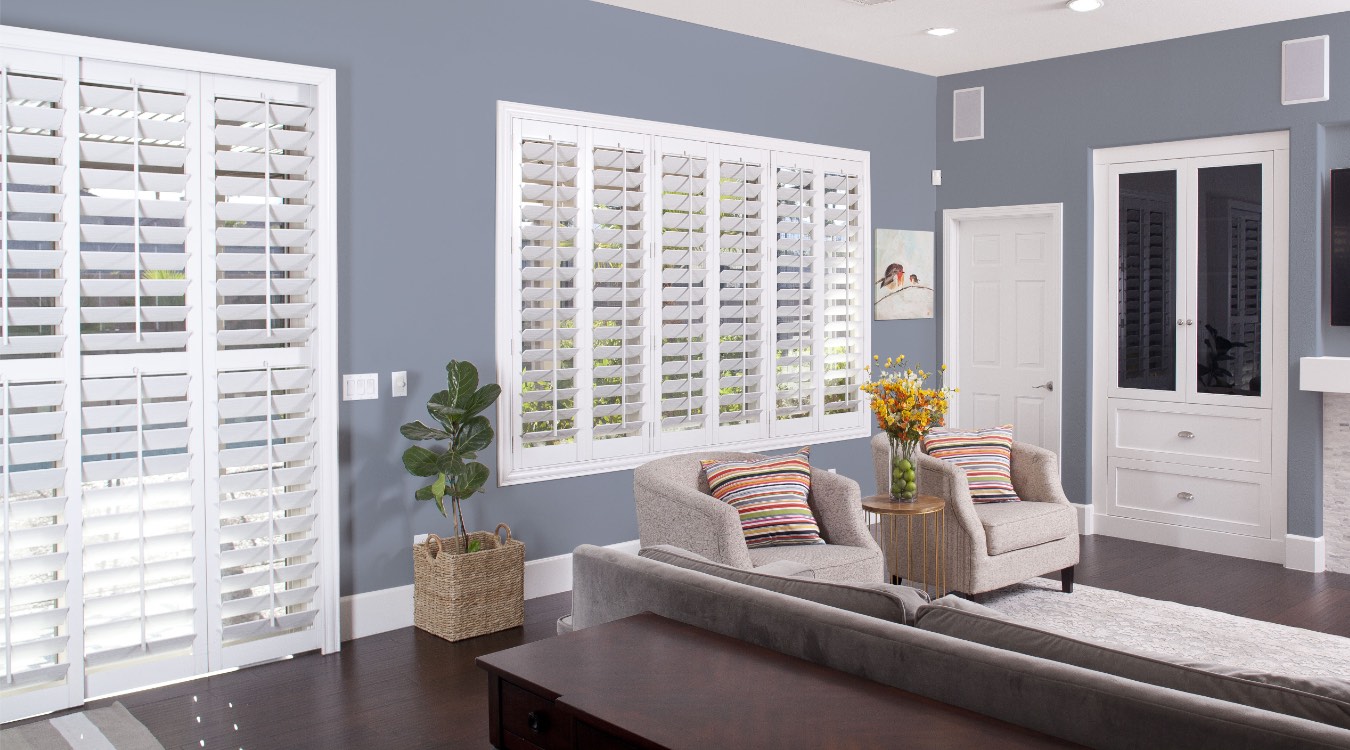 Crafted from an engineered wood substitute, Polywood® plantation shutters won't chip, warp, crack, or split. In addition, the color on our shutters won't yellow or fade. That's because we bake on our superior paint finish and pair it with UV stabilizers that make the premium synthetic resistant to the sun's rays. So, no matter how hard the Phoenix sun shines, your shutters will look as new as the day we installed them for you!
Polywood plantation shutters are also the top of the line for insulating shutters, so your home can be more energy efficient than it ever was. Dive into the Polywood Insulating System® to discover the energy efficiency perks Polywood shutters can offer you.
We custom make our Polywood shutters so they look stunning on your Phoenix windows – and work effortlessly when you open and close them.
DESIGN YOUR SHUTTERS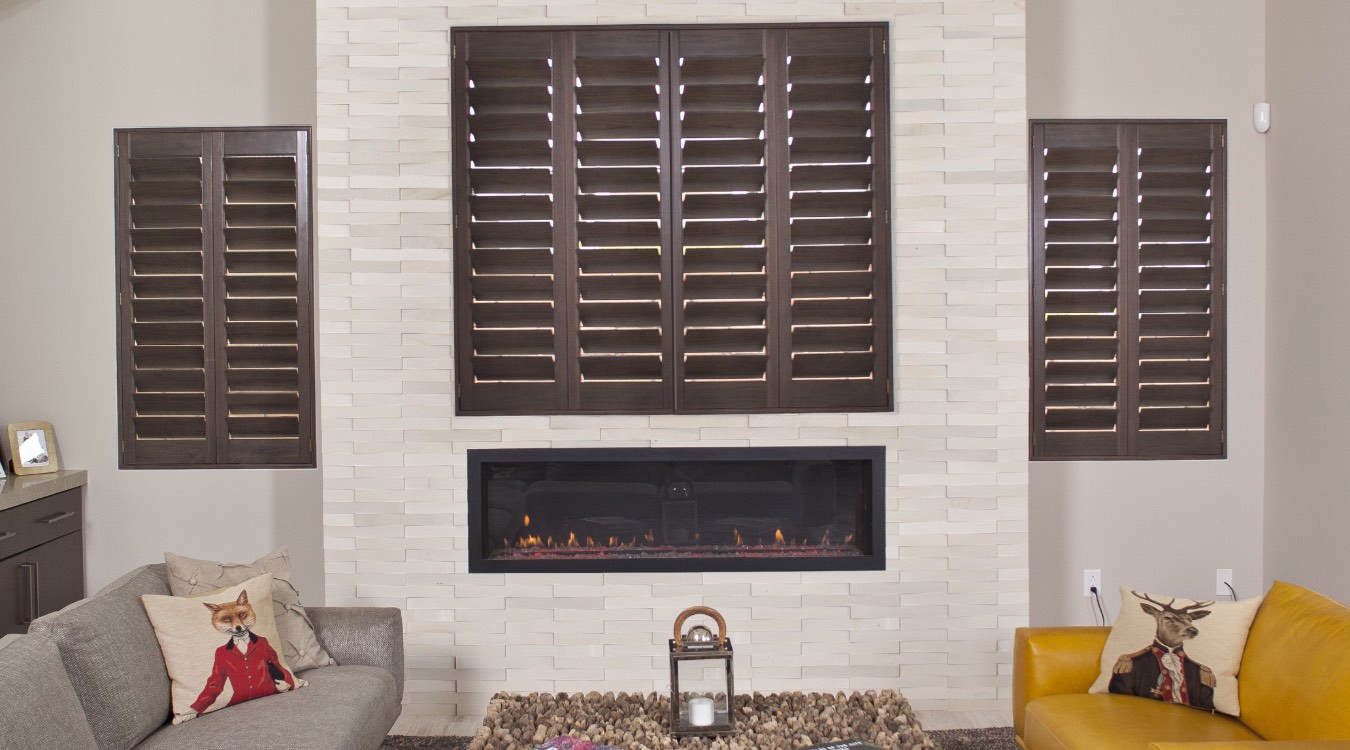 If you want a premium wood plantation shutter, you've found it. Ovation® hardwood shutters are hand-made from solid teak so you won't have any doubt that they are built to last. A five-star wood shutter, Ovation shutters come in different louver sizes that showcase the durability of furniture-grade hardwood.
Do you have a specific color set up to accentuate your decor? Ovation plantation shutters can be customized in 28 unique wood stains and 11 beautiful paints, so you're able to exactly match your previous window trim or complement the colors of your house.
We design all of our Ovation plantation shutters so they fit your Phoenix windows perfectly and work flawlessly.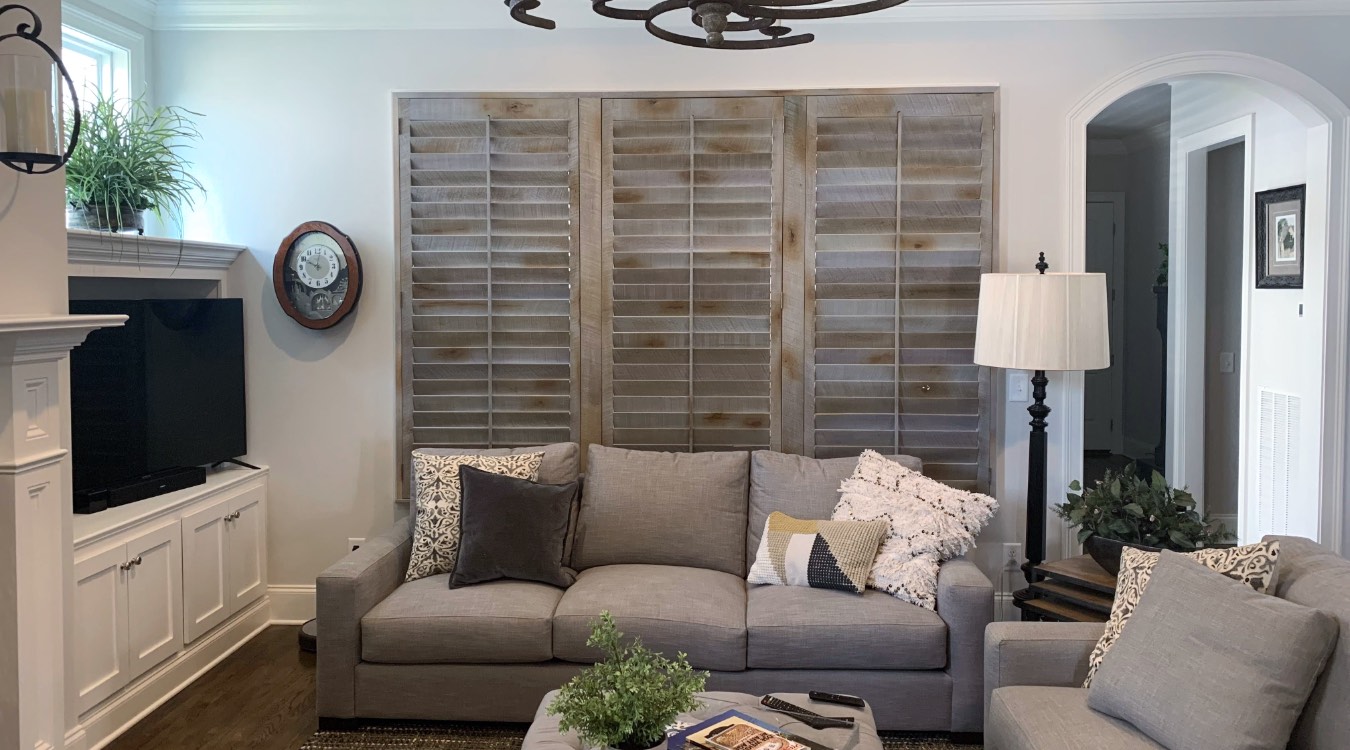 Bring a modern touch to your home with reclaimed wood shutters. Each shutter louver has its own specific finish and color, crafted by Mother Nature herself. We custom make these shutters to complement any window in your home.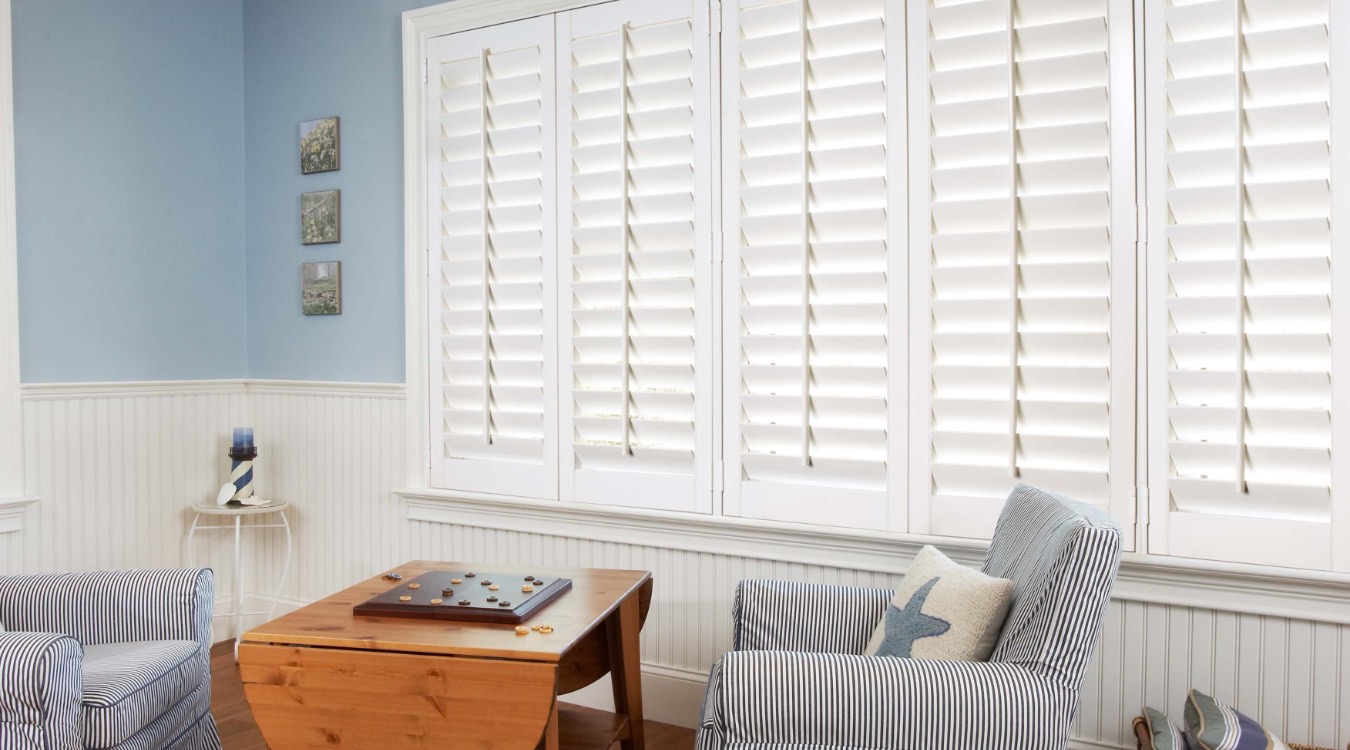 Studio shutters are the newest offering from Sunburst Shutters Phoenix. Uniquely built to offer both the elegant looks of plantation shutters and unmatched value, Studio shutters are a sleek, smart window treatment.
Schedule a free in-home consultation today by calling 480-485-7743 or filling out the form below!