8 Ways to Use Reclaimed Wood in Your Phoenix Home
Phoenix people adore the look of reclaimed wood. It's a trendsetting way of repurposing weathered wood and fully showcasing your individual style. Reclaimed wood products are genuine eye-catchers whether it's part of a wall, your cabinets, or even your windows. Need a bit of reclaimed wood inspiration? We put together 8 incredible ideas for you – each and every one applied to wonderful effect in Phoenix homes.
1.Outfit Your Windows with Reclaimed Wood
For the first time ever, you can have reclaimed wood as a window treatment. Sunburst Shutters now offers a plantation shutter formed from the best-quality reclaimed wood. In truth, Sunburst is the only company offering reclaimed wood shutters in the Phoenix area. We found the reclaimed wood you want and used it to give you a louvered shutter that's just as appealing for its functionality as it is for its beauty.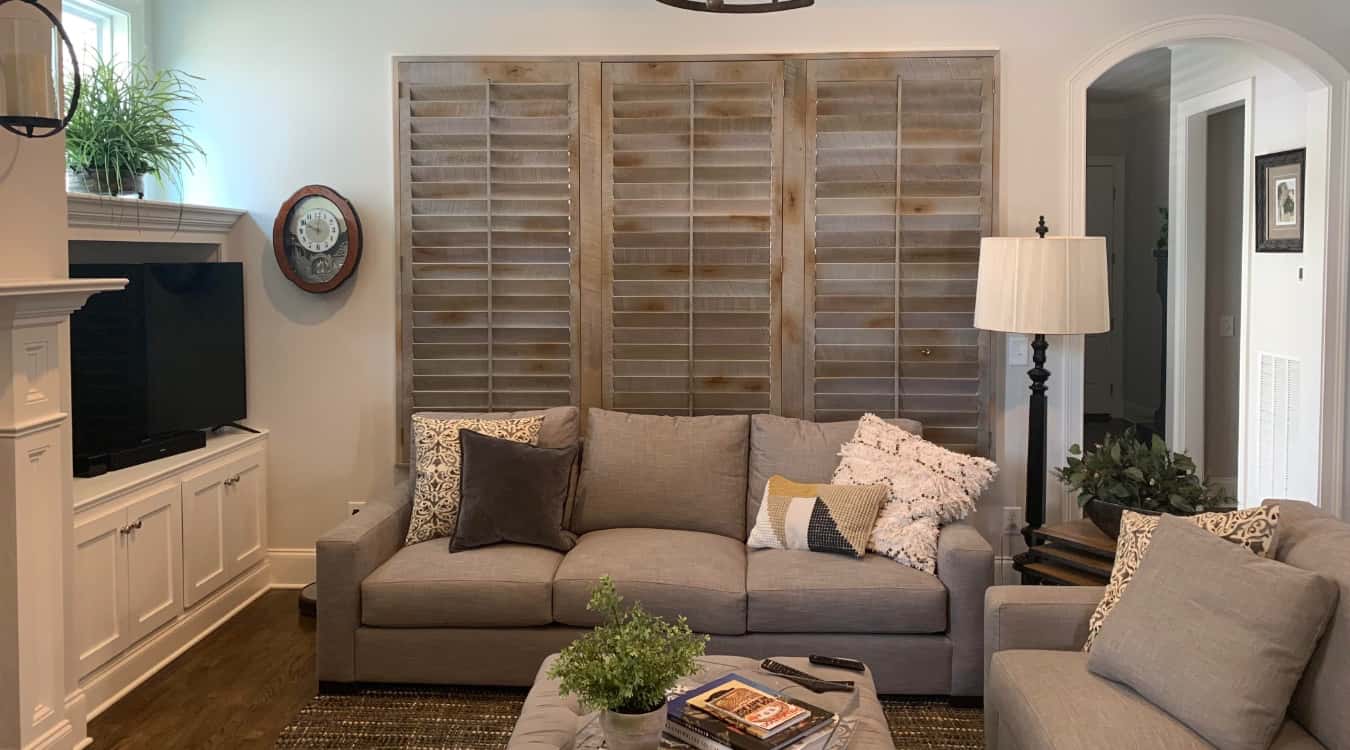 Reclaimed wood can be a window treatment like no other. It makes a difference, certainly, that your reclaimed wood shutters are themselves masterpieces. And Sunburst makes sure they are. You'll find that their smooth, simple operation is as beautiful as their appearance. Tilt the louvers open to brighten up the room's interior. And tilt them closed to enjoy fully the weathered look of reclaimed wood on your window. Don't just take our word for it, though. There's so much more to discover about reclaimed wood for windows in Phoenix. Be adventurous!
2. Redo Your Walls with Reclaimed Wood
If it's natural, unassuming beauty you want in your home, reclaimed wood brings it inside like nothing else. Reclaimed wood paneling turns your wall into a quiet but compelling showpiece and adds a homey atmosphere to the room. It doesn't matter if you have a artwork, TV, bookcase, or fireplace to dramatize, a reclaimed wood wall will look fantastic behind it and provide the very effect you you want.
3. Used Reclaimed Wood for Floors
Been thinking about redoing a floor in your house? Wood flooring of any kind can make a room feel warmer, but flooring of reclaimed wood has a singular beauty that says something about the time – typically decades – the wood has been outside. No matter if you're partial to being outside in nature or merely one who likes the appearance of weathered wood, you'll be blown over by what a reclaimed wood floor can do to beautify your home.
4. Reclaimed Wood for Cabinets
On account of the greater availability of reclaimed wood, this may be the opportune time to spruce up your kitchen cabinets. It's the natural way to revive your whole kitchen. Each panel of reclaimed wood tells an amazing story – of decades [[spent in an old building, maybe, or as part of a barn or fence. And a trace of that narrative will endure in your reclaimed wood cabinets, coming to mind every time you're around them.
5. Reclaimed Wood for Tables
A tabletop incorporating or wholly consisting of reclaimed wood can add a ultra-current, emphatically novel look to your dining room or home office. Unite the reclaimed wood's natural tones and textures with your décor scheme for a cohesive look that comforts you – while it "wows" your guests!
6. Your Bookcases Cry Out for Reclaimed Wood
Regardless of how important they may be to us otherwise, books make fantastic decorative pieces. Leather, vinyl, buckram, or paperbound books and those with colorful dust jackets look especially pleasing on a coffee or end table, on a bookshelf, or in a large bookcase. Their pleasant variety is both distinguished and brought together in bookcases of genuine wood, too. And bookcases of reclaimed wood, due to their natural colors, knots, holes, scratches, and other telling features, prove to be a singularly distinctive, one-of-a-kind décor item.
7. Pics "Pop" in Frames of Reclaimed Wood
The muted, natural look of reclaimed wood is just right for picture frames. It's just what's needed to show off your favorite artwork and most cherished photos in a decidedly impressive manner. It's worth noting, too, that frames of reclaimed wood can be designed in a variety of styles, thus they'll harmonize with just about any décor.
8. Reclaimed Wood and Headboards
There's little that can lift the look of a bedroom like a smartly designed and constructed headboard. There's no best way, mind you, to attach a headboard. It can be – and often is – fastened in some way to the bed itself. But many people nowadays like to have it affixed to the wall behind their bed. However you want it, a headboard constructed of reclaimed wood planking can be quite breathtaking. It's natural tones and imperfections are easily adapted to a seemingly infinite number of styles, from antique to modern. With reclaimed wood, your artistic talent can definitely soar, making it possible for you to achieve the headboard of your dreams!
Let Reclaimed Wood Revitalize Your Design Sense
We hope we've inspired you with these 8 ideas for making use of reclaimed wood. But we have plenty of other ideas kicking around – ideas that blend well with the reclaimed wood shutters only we offer in Phoenix. Our professionals would be pleased to show you samples of our shutters, answer your questions, and provide you with many other design ideas. Contact us at 480-485-7743 to arrange your free in-home design consultation at your convenience!