Five Suggestions To Create The Ideal Media Room In Phoenix
The latest audio and video tech makes it simple to immerse your senses in gaming, movies, and your favorite TV shows in the comfort of your own space. This is the reason why Phoenix families are increasingly creating home media rooms. But what is required to produce an amazing home media room? From ideal window treatments to equipment, explore these five suggestions for creating a media room in Phoenix that the whole family will appreciate.
#1 Control Exterior Light With Interior Shutters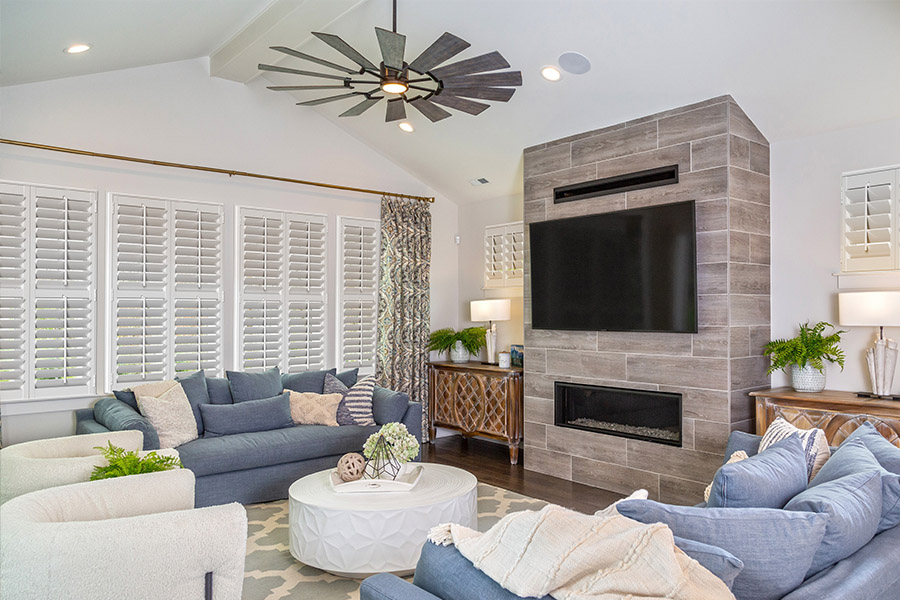 Few things can spoil a movie like glare on the TV. Adjustable interior lights are nice, but what about sunlight? Choose
interior shutters for window treatments
in your media room in Phoenix for the best control of sunlight. Plantation shutters feature a framework that encompasses your window to keep out exterior light. These durable products also have hinged panels with adjustable louvers that close securely to achieve almost total darkening. Or manipulate the louvers as you wish to shift exterior light away from screens or your face without having your room appear to be a dark cave.
When you select Polywood® shutters, you'll achieve improved insulating ability too. These composite shutters block UV rays and drafts to help your media room stay at a comfortable temperature. They can prevent around 30 degrees of temperature transfer, lowering your energy expenses.
#2 Enhance Your Media Room's Acoustics With A Few Straightforward Refurbishments
As soon as you conquer the lighting in your Phoenix media room, focus on the acoustic environment. Drywall is adequate for your media room's walls, but your basement's concrete ruins sound quality. The simplest method to control echoing in your lower level media room is by putting up acoustic paneling. In the event you need to resolve the sound issues in your media room, look for DIY sound absorption or sound barrier products. You can combine those with window treatments, like shutters, to inhibit noise from outside.
#3 Invest In The Right Devices
The appropriate equipment will give you excellent audio as well. Begin with your surround sound configuration. Numerous residents select devices with Wi-Fi capability since there's no need to deal with concealing wires.
You also need a fantastic TV. LCD and LED screens are brighter, but 4k units generally have better contrast and viewing angles. Or get a projector and screen for that larger-than-life display in your media room. No matter what television you pick, place it further up your wall for improved viewing angles.
#4 Pick Out Comfy Sofas And Chairs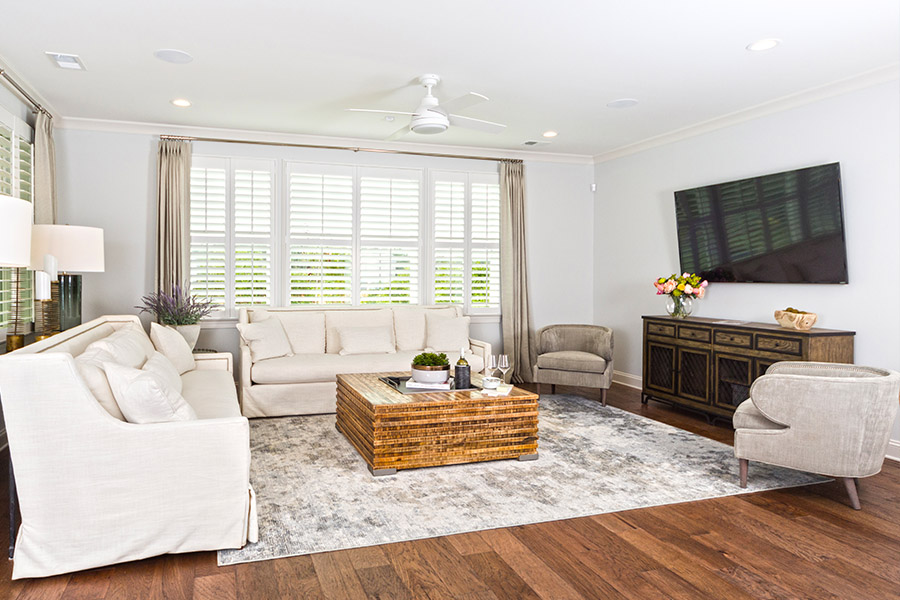 It's hard to be entertained by the big game without a cozy seating option. If you're going for a complete home theater, look for theater seating with reclining functionality and built-in cup holders. For gamers, invest in some chairs suitable for long hours at play. A spacious sectional works great as well. While you're at it, add a few plush throw blankets and maybe a pillow or two to hunker down for those nights of binge watching.
#5 Redecorate With A Fun Theme
You can decorate in whatever fashion you would like when creating a media room in Phoenix. Do you love a particular sports team? Is your goal to give the impression that you're within a genuine theater? Framed movie posters, a classic popcorn trolley, and bold colors can promote the intent of your media room.
If you want a more understated appearance, focus on a favorite color palette. Warmer hues with real wood accents and coordinating Ovation® shutters will have your media room feeling snug. You could also go light and airy with soft neutral hues and Polywood shutters.
Speak With Sunburst About Window Treatments For Your Media Room In Phoenix
The professionals at Sunburst Shutters Phoenix will help you select the best window treatments for your media room. At your complimentary on-site consultation, we reveal how different solutions look in your space before making your ultimate choice. Arrange yours today by calling 480-485-7743 or by submitting the following form.