Ideal Window Treatments For A Home Library In Phoenix
The window treatments in your home library in Phoenix could seem like insignificant, but they actually offer a lot to help you create the perfect space for reading and relaxing. The smartest options allow you to manage light levels, privacy, and even the comfort within the room! In the event your home library window treatments aren't capable of offering the same, we recommend durable faux-wood shutters. Here's why.
Choose From A Bright And Sunny Or A Slightly Darker And More Secluded Home Library With Faux-wood Plantation Shutters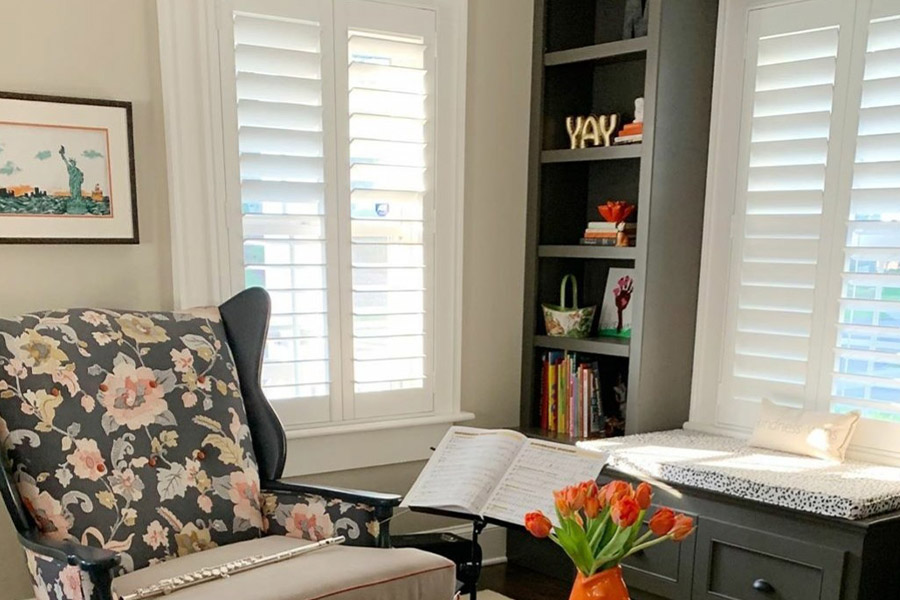 Each home library should have plenty of illumination for browsing your favorite reading material. But sometimes an overabundance of light causes eye strain. And how about when you are looking for a more brooding environment for settling in to a an edge-of-your-seat thriller? The best window treatments for home libraries in Phoenix let you simply switch between a flood of sunshine and lower light levels.
Plantation-style shutters are easy to manipulate. You are able to swing out the panels for complete light when your artificial lights aren't enough for your perusal of a paperback or if you would like to lower your energy expenses. If the sun is too intense, keep the panels closed but adjust the louvers for the amount of light you want. You might also move the adjustable slats to redirect sun glare off your page or reading device and enjoy just the right light level to prevent eye discomfort. And if you would like a dimmer, more private home library, the solid panels and louvers shut securely to block nearly all exterior light.
Minimize Outdoor Disruptions While Reading With Louvered Shutters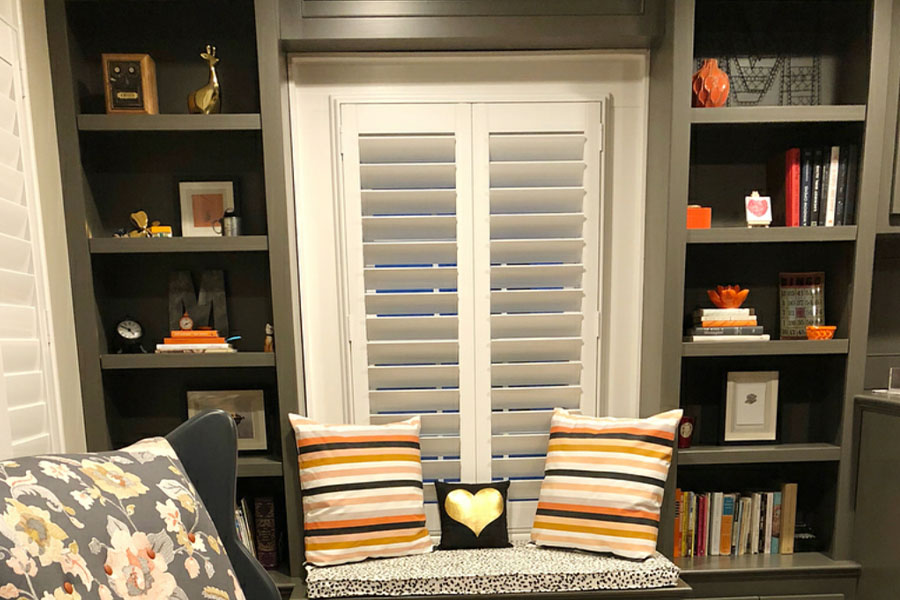 When it's finally time to unwind with that new mystery you've been itching to read, the last thing you want is any commotion or distraction from the exterior of your home. Faux-wood shutters will block these intrusions when you want peace and solitude. All you have to do is close the shutter panels and slats if you don't want to see neighbors or Phoenix traffic in your sightline as you attempt to get back to your story. Your secured shutters will keep everyone from glimpsing you in your secluded space as well. And unlike most window coverings, you are able to shift your shutter louvers to bring in a little light so you can read while obstructing sightlines from outside your home.
Sturdy faux-wood shutters even do an amazing job of suppressing outside noises compared to window shades and blinds. Did your neighbor crank up his weed wacker just as you had reached the the moment of truth in your book? Seal your shutters for a little extra peace and quiet as you read.
Halt Unwanted Drafts With Polywood's Superior Insulation Properties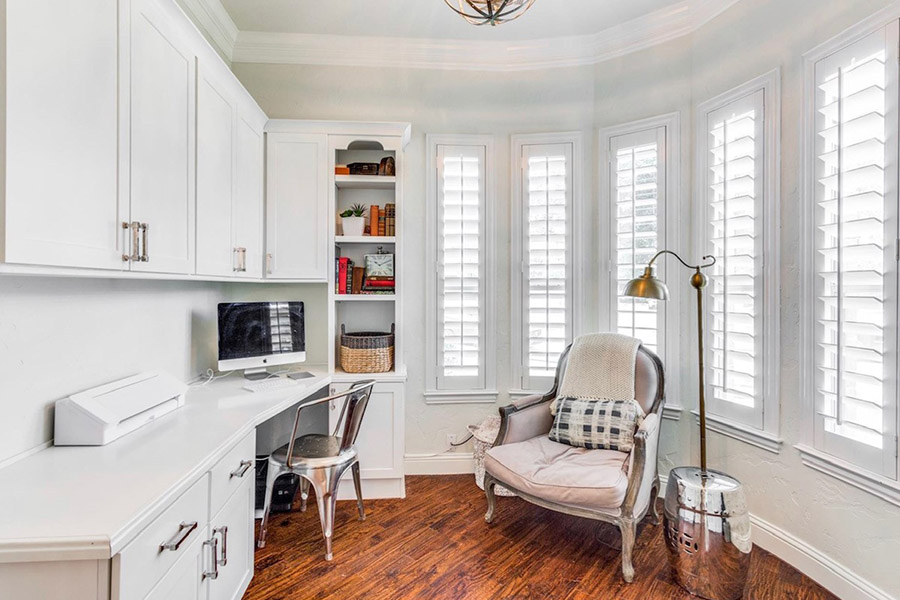 In addition to giving you control over sun and exterior disturbances, your distinctive faux-wood shutters minimize drafts that may impact your comfort while you relax in your treasured easy chair.
Polywood shutters provide a higher level of energy efficiency
than every other product. Both cold air and hot UV rays aren't able to infiltrate their faux wood. And their exceptional construction keeps outdoor air from moving around cracks. Polywood shutters will block up to 30 degrees of temperature loss from your area's windows to shield your books from sun and drafts while maintaining your comfort.
Sunburst Shutters Phoenix Has The Best Window Treatments For Your Home Library In Phoenix
Come up with the best home library with stunning interior shutters from Sunburst. Our team will bring shutter samples to your residence to give you an idea of how they look in your room. We then craft your products to the precise measurements of your job. Start today by calling 480-485-7743 or fill out the form on this page to request your complimentary on-site appointment.