Phoenix Window Treatments For Doors with Half Glass, Full Glass, And Custom Windows
An entrance that showcases glass panes delivers a distinctive design flair to your home and welcomes in sunshine. But what happens when that window faces the blinding sun or gives outsiders a sightline into your Phoenix house? Products like interior shutters, Roman shades, and zebra shades all provide stylish coverage if you're looking to install Phoenix window treatments for a door with half glass, total glass, or custom windows.
Incorporate Interior Shutters For Attention-Getting Phoenix Window Treatments On Doors With Half Glass, Full Glass, And Arched or Rounded Windows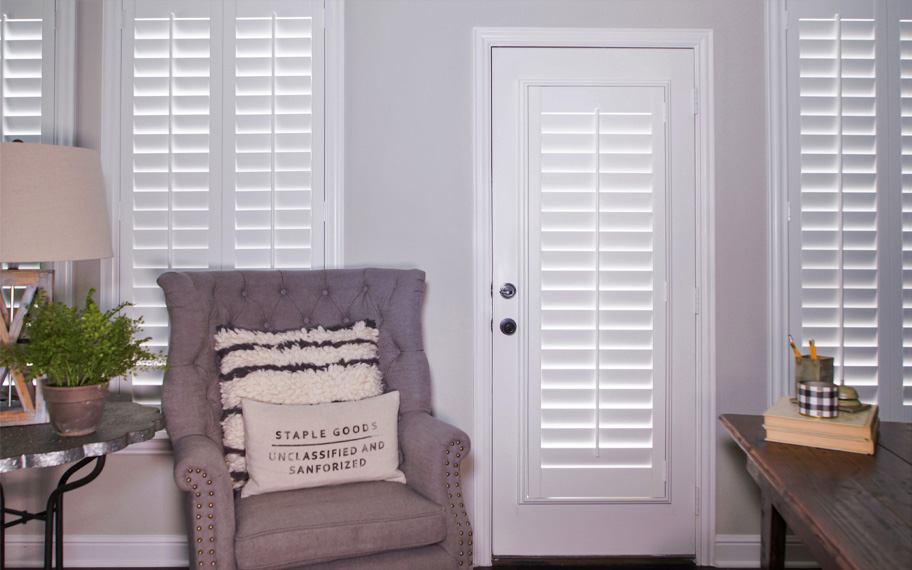 Your door is one of the first and last things friends and family will take note of at your Phoenix house, which means your window treatment needs to make a positive impression. Interior shutters are impressive on doors. They add an appealing design element to your doorway, and their louvers allow you to adjust the the amounts of privacy and light. Shutters are also the perfect Phoenix window treatments for doors with half glass, complete glass, and specialty windows since they can be fabricated for windows of any size or shape. Custom shutters will precisely cover an [[arched or circular window's shape]67] when other products cannot.
Polywood® shutters are the sturdiest window treatments you can select for your doors. They stand up to jostling from kids and pets jumping on the door, and grimy paw and hand prints wipe off with little effort. These tough window treatments will never split apart or warp due to a cold breeze or warm, humid air coming through your door. And they'll never sway or slap against the door as aluminum blinds do. All of this means they look great for much longer than other options..
Use Roman Shades To Block Or Filter Light With Panache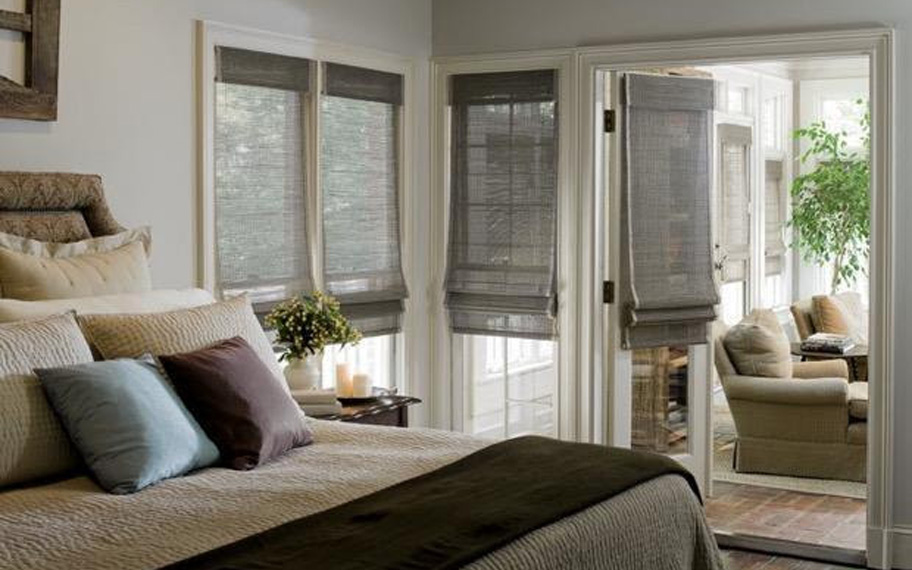 Doors with glass are great for your design aesthetic but may cause a problem if they direct sun glare into your field of view. Fashionable Roman shades make excellent Phoenix window treatments for doors with half glass or whole glass as they are available in a range of transparency levels. In the event your door faces in an east or west direction, you can install more opaque solution to limit the intrusion of direct sun. If large trees or a porch roof shade your door, a more transparent shade will allow a pleasant amount of filtered sunshine. Or use Roman shades that open at the top and bottom for a sliver of light while preserving your privacy below.
Roman shades offer the added benefit of coming in many colors and patterns to coordinate with your Phoenix home's exterior and interior. Patterned shades dress up what is likely a simplistic door. In the event your window has colored or beveled glass, pick a shade with one color so that a pattern doesn't clash.
Use Zebra Shades For The Ultimate in Light Management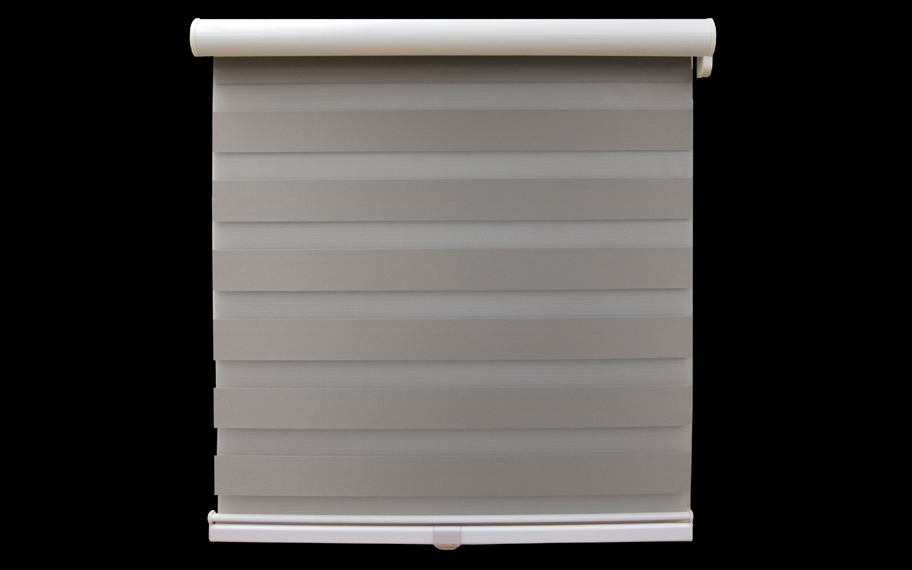 Transitional, or otherwise referred to as zebra shades, mix effective privacy with the ability to let in light. They offer a trim profile and remain next to the door. Zebra shades are a clever substitute for roller shades and they feature a constant loop of material that alternates with solid and sheer sections. The positioning of the front and back panels is adjustable so you are able to look out through the sheer portions and allow light in or line up the solid stripes over the see-through parts to block the light and view completely.
These highly functional shades can be purchased in a variety of styles and colors. You even have options in how to operate your zebra shades. If installing to a door, your best bet is probably cordless products since cords will get ensnared or entangled around the door jam. If you want convenience, you may select an automated shade that moves quietly with the pressing of a remote if you desire to alter the amounts of privacy and natural light.
Add Style And Function To Your Door With Window Treatments From Sunburst Shutters Phoenix
At Sunburst Shutters Phoenix, we carry only the finest interior shutters and shades for your glass doors and every other window in your Phoenix home. Just let our consultants know the basics of your project, and we'll recommend products for all of your needs. To start with a complimentary on-site appointment, call us at 480-485-7743 or complete the form on this page.