Top Window Treatments For Double Hung Windows In Phoenix
In the event Phoenix has enjoyable outside conditions, it's nice to get clean air and sunshine flowing in from the open top sash in your double-hung windows. It's important to note, the vast majority of window coverings conceal the top sash when lowered.
If you're looking for a private interior without blocking your window tops, consider Polywood plantation shutters or specialty shades that open at the top and bottom. These window treatments for double-hung windows in Phoenix give you the best control of privacy, airflow, and light.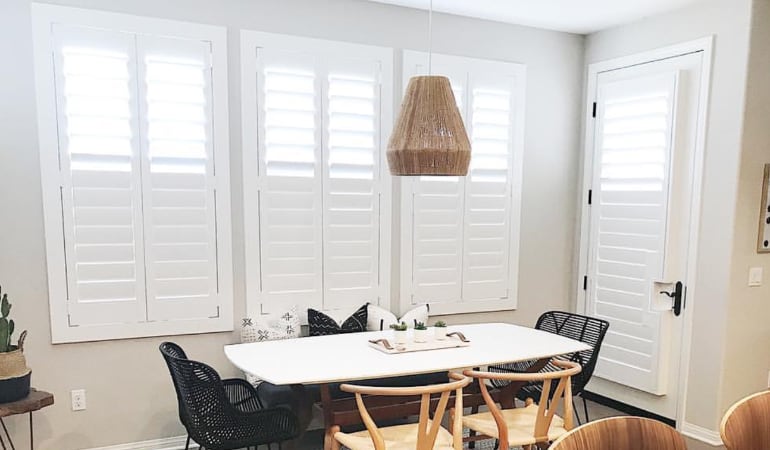 Control Airflow And Light With Plantation Shutters
Just like double-hung windows, you have the ability to adjust plantation shutters two different ways: swing open each panel to uncover your window for full light or keep them secured together and tilt open the louvers with the tilt bar for the amount of light and privacy you want. Both options let in a breeze if you slide open either sash on typical double-hung installations. If you want optimal airflow, pull open your shutters and adjust the top and bottom sashes so refreshing cool air comes in at the bottom, and hotter air exits through the top.
Plantation shutters are versatile enough to work with tilting, double-hung installations. Swing the panels back and utilize the tilt option for a rush of fresh air. You should ask your installer about placing them with an outside mount so you can slightly open the panes with the shutters still closed. Don't forget, you can still tilt the louvers to change your light and privacy levels.
Another option is to incorporate a divider rail within your panels. This gives you the ability to open one section of the panel to welcome in sunlight while keeping the other half closed to protect your privacy.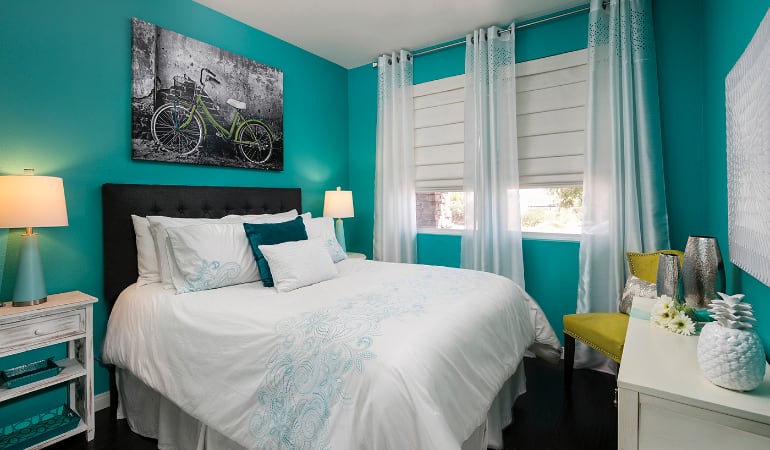 Enjoy Your Open Window and Privacy With Top-down/Bottom-up Roman Shades
Top-down/bottom-up Roman shades can be moved down at the top or up from the bottom, much like your double-hung windows.
That is why they are a perfect complement for these types of windows when you're looking for increased air circulation and lighting without the whole neighborhood looking in at you.
You can open the tops of your windows and pull down the top of your window shade to let in a gentle breeze and natural light while still blocking views at the bottom of your window. Another option is to leave a small gap in the window and shade at the top and bottom for ventilation while keeping the majority of your window blocked.
Considering that you will have your window shades fully expanded during many hours of the day, it makes sense to install an option as appealing as Roman shades. The distinctive pleats and array of material, color, and pattern choices make Roman shades an eye-catching window covering for your Phoenix home that your family will love.
Keep Out Drafts With Top-down/Bottom-up Honeycomb Shades
Double-hung windows provide a wealth of fresh air when it's nice outside, but the added functionality can make them draftier than other types of windows. One solution is top-down/bottom-up cellular shades. Also known as honeycomb shades, this treatment features fabric cells that catch exterior air coming through your windows.
This unique feature also helps prevent inside air from leaking out. Considering this benefit, these treatments help make your interior temperature stable and your energy costs low.
The energy-conserving functionality makes this product appropriate Phoenix window treatments on double-hung windows all year long. Open them in conjunction with your windows for a gentle breeze during mild weather and close them to shield your Phoenix house from uncomfortable outside air when faced with seasonal weather fluctuations.
Contact Sunburst Shutters Phoenix About Window Treatments For Double-hung Windows In Phoenix
Get the most out of your double-hung windows with the best window treatments from the leaders at Sunburst Shutters Phoenix. Our consultants will help you explore our impressive line of products and find the perfect treatments for your Phoenix home. Contact us at 480-485-7743 or submit the form on this page to schedule a free in-home consultation.