What Family Room Window Treatments Look Best Your Phoenix Home?
The family room is the place you go to sit back and unwind. This is where you watch the sports games, the movies, and the presidential debates. When the TV is the focus of this room, deciding on a window treatment that matches the décor and also allows you to control glare is no easy task. We have looked at different window treatments in Phoenix, and highlighted which enhance your house the best.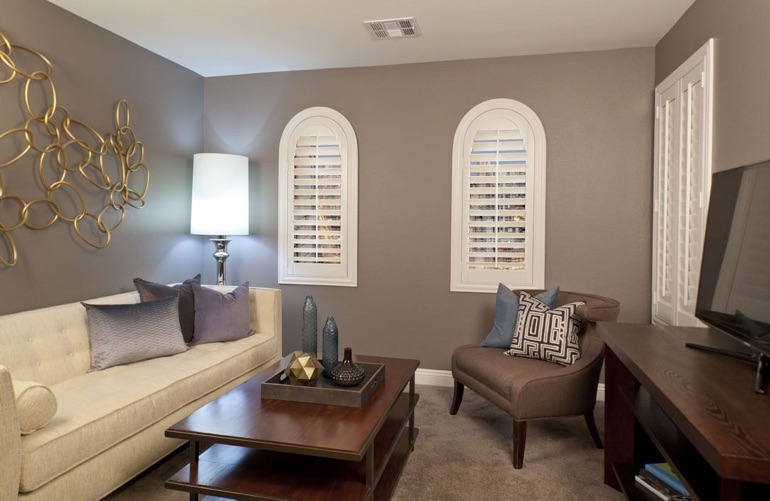 Plantation shutters in Phoenix are the best window treatment for the family room. You can move the louvers to let in more light using a tilt rod. And a divider rail gives you the flexibility to bring in some light from the top of the window, without any from the bottom. Now, you can enjoy natural light while reducing TV glare.
Family room shutters come in reclaimed wood, Polywood®, and Ovation® wood shutters. Polywood shutters are the most energy efficient window shutter because they are made from a synthetic polymer with exclusive weatherstripping. They ensure that your family room is insulated against the effects of the weather outside. And, the temperature indoors remains pleasant for playing Playstation with the children.
Family room shutters manufactured from wood or synthetic materials can be durable for decades. And shutters are so sturdy that when a game controller is flung at the window accidentally, it's not likely to cause damage to the window treatment.
When you're looking to add natural charm and warmth to your family room, reclaimed wood shutters invite you to kick back. Reclaimed wood shutters are the newest plantation shutters product. These family room shutters are made from upcycled wood that was originally part of fences, buildings, and barns. The marks, knots, and holes on individual shutter louvers might inspire you to cozy up to the fireplace.
Mounting plantation shutters in your family room isn't just about having charming window treatments. Plantation shutters become a permanent fixture that contributes to the house's value when sold. It's yet another way family room shutters transform your Phoenix home.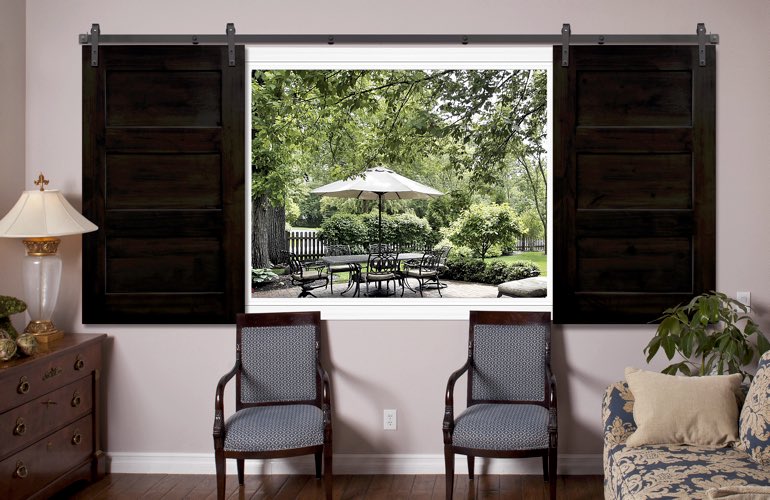 Sliding barn doors are a contemporary window treatment for your family room in Phoenix. The panels are the same ones used in sliding barn doors used for traditional doors. You can choose the same color, hardware, and style to match a family room barn door!
This family room window treatment is a work of art because it elevates the décor of the room, at the same time bringing privacy and functionality. The barn door panels move sturdily and smoothly along the top-mounted track. Close them to get more privacy and reduce the glare on the TV while watching all the episodes of "Fuller House". Or open them to enjoy the view and let in more light.
Blinds For Family Room Windows
Metal blinds come in over 70 colors, finishes, and textures that can be customized to complement the décor of your family room. For a warmer tone to the room, consider installing hardwood or faux wood blinds in your family room.
Keep in mind that the thin blind slats do little to reduce glare. Watching your favorite show won't be as enjoyable with the glare. The blind slats may break if a basketball is accidentally tossed at the window in excitement or frustration.
Shades For Family Room Windows
Shades are available in a selection of styles: woven wood shades, roller shades, Roman shades, and cellular shades. Roman shades are the epitome of classic luxury. Cellular shades are charming while being subtle. Roller shades bring a modern touch. If you're going for a warm tropical look in the family room, go with woven woods.
The materials shades are manufactured from may be too sheer to enjoy the baseball game glare-free. Adda light-filtering privacy liner to shades to block more of the light coming in.
While the light-filtering liner can reduce glare, it won't prevent the shades from losing their color. Exposure to UV rays can cause the fabric to yellow over time. And just like that, the family room window treatment you love starts to look dated.
Get More Ideas For Family Room Window Treatments In Phoenix, AZ
Browse the window treatment idea gallery to find inspiration for your family room or explore our Ultimate Room Guide to find window treatment ideas for each room in your home. And when you've made up your mind to order, our team is at your service to help you select the best family room window treatments in Phoenix. All you have to do is contact us at 480-485-7743 or fill out the form below to set up your free in-home design consultation!