What Plantation Shutter Color Should People In Phoenix Use?
Which Plantation Shutter Color Do Those In Phoenix Pick?
Plantation shutters are one of the more fashionable window coverings that homeowners in Phoenix buy for their houses. Their enduring style complements many different decors and easily prevents sun glare and heat loss from coming into your rooms.
The durability of a plantation shutter
is also a big bonus, and will probably transcend your current interior design.
When there's so many great aspects regarding plantation shutters, it's no question if you should get shutters as your preferred window treatment. Rather, you should be asking what color of plantation shutters will you choose?
White Plantation Shutters Fit Every Style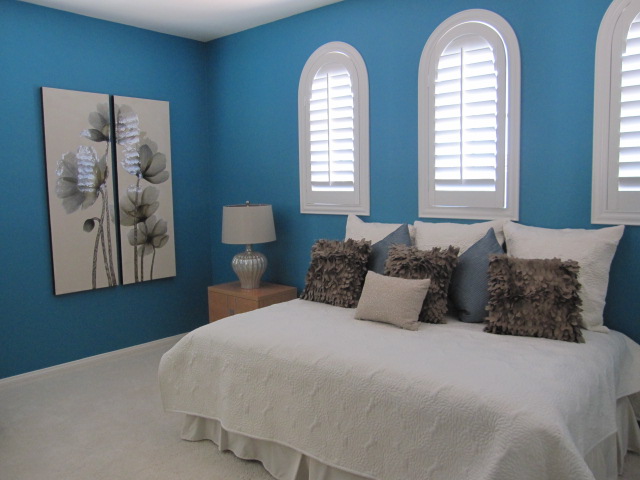 Just like trim, white is also the most accepted color of plantation shutters by a wide margin. It's easy to see why -- white can blend into many different room decor schemes. From bold wall colors to simpler decor, white plantation shutters can complement almost everything. And when you redo your preferences and redesign, you can leave your white treatments in the windows, because they'll still look amazing.
Those who choose white plantation shutters usually want them constructed from faux wood so they won't yellow over time. Our Polywood® plantation shutters come in three varying shades of white and are backed by a lifetime warranty that esures they will never yellow, stain or fade. To clean, just wipe with a damp rag, and any dust or dirt will come right off.
Natural Wood Stains Work Well With Some Designs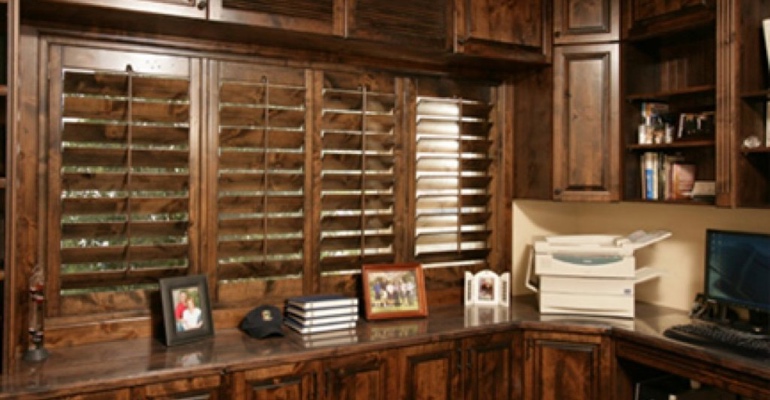 For some interior themes, a
plantation shutter with a natural wood stain
works best. A natural wood look might seem a bit more restrictive for over exuberant design overhauls, but if you can match your wood flooring or stained furniture, then real wood shutters might be a great fit for you. The stains can bring your windows a more natural feeling, perfect if you're looking at a colonial or rustic style.
What some people do is to go with real basswood plantation shutters like our Ovation® shutters. They have a slew of stains that will match most woods in your house. If you want a completely natural look, you could try a reclaimed wood plantation shutter. These are perfect if you use a beach house or rustic farmhouse motif in your house.
Bold Colors Are For Other Types Of Window Coverings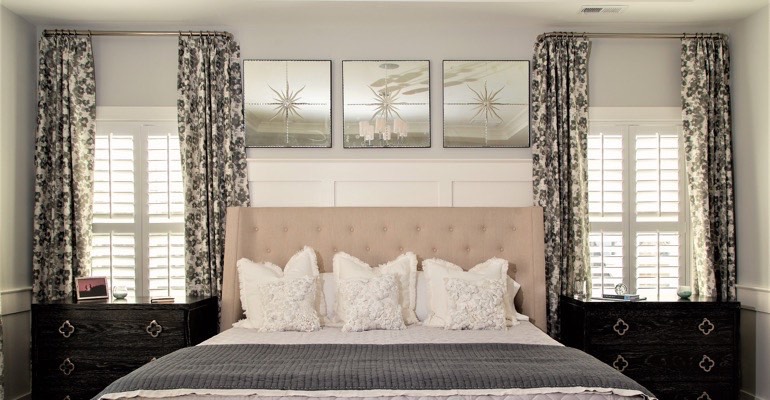 While you could paint your shutters in a accent color, you may want to proceed with caution. A strong color may work well now, but then you're saddled with that color forever. White and wood stains have are classics, but will the cherry red or canary yellow shutter still look pretty 5, 10 or 15 years from now? You can change your wall color fairly easily, but it may take a whole new window treatment to swap out the color on your plantation shutter.
If you want color, you will want to hang a store-bought accent curtain along with your plantation shutter. By including a dash of color or pattern, you will show personalization to your windows without sacrificing the benefits of a more substantial interior shutter. Then as your wants change, you can keep the plantation shutter and just replace the curtain -- or get rid of it altogether.
Sunburst Can Help You Choose The Best Color Of Plantation Shutter
No matter if it's white Polywood or a natural hardwood, Sunburst can offer the perfect covering for your windows. Our reps understand Phoenix and will drive to you and give you plenty of plantation shutter and window treatment options. Just call 480-485-7743 and schedule your in-home consultation today.